Hi my name is Daisy Helen and Iím going to tell you of my recent exciting holiday. I stayed at Jaselles Daisy Passion in the South Island of New Zealand with Michelleís Daisies and Amy. I live in Hamilton, in the North Island of New Zealand, so going to the South Island is pretty cool.
Here I am. Iíve just arrived at Oamaru Airport. The two lovely stewardesses looked after me so well.
I say "Thank you" and "Goodbye" to the two stewardesses, "Hope to see you both on my flight home again."
Aurburn and Dizzy daisies have come to meet me. We get on so well.
They settle me into the daisy mobile for my trip to their home.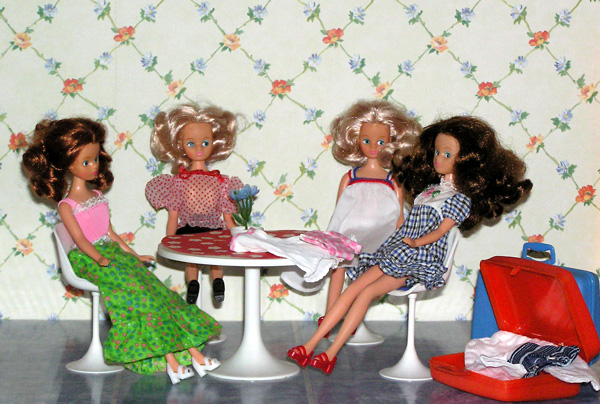 At home we are joined by another blonde daisy. I bring out the lovely outfits I have brought with me to gift to the girls.
Aurburn and the blonde come out dressed in the lovely outfits "Jive" and "Able Seaman". They both look great. They will look great on the daisy website.
Weíve been invited to attend a party at one of Daisyís rich friendís houses. We have drinks and tea on the huge lawn. It was a really great time and I made heaps of new Daisy friends.
All too soon I was getting ready to fly back to Hamilton.
"Bye everyone. Thanks for the great time."
"You are welcome Daisy Helen, we really enjoyed your visit. Thanks to you and Yvette for the presents. Hope you have a great trip home."