Daisy has many extras such as jewellery and much bigger items.
Daisy Carry Case.
Travelling Case.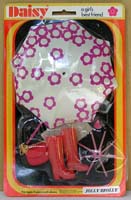 Getting caught in the rain is no worries with Jolly Brolly.
Toolkit. Strangely it has Beautiful Dreamer on it.
Bedsit off the card but complete.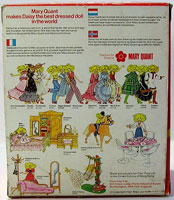 Daisy Lovely Luggage.
Daisy simply must have the latest bag to match her favourite outfit.
Fancy Free 65337
Ritz
Mirror, brush and comb Variants.
Our Surf and Skate boards.
Plastic chair variations.
Cutlery variation.
Scooter.
Tuckerbox. But I see it is actually called Tuck 65352 in the booklet.
There is nothing better than a bike ride on a lovely summers day.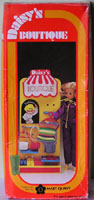 Maybe a little shopping?
Shopping at the Super Market
This is an ultra rare item. I do not have the box for this and to the best of my knowledge it is only missing the celery.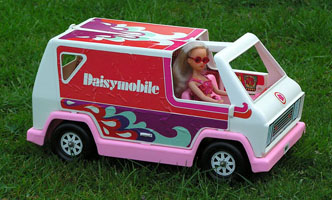 Now this is the only way to camp. her very own Campervan!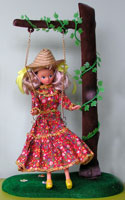 Relax with a gentle swing on a warm summers evening.
Every girl needs her jewelery and maybe some lovely flowers.
A girl can never have too many shoes.
Boots add that extra flair to most any outfit.
Need a typewriter or telephone? Maybe watch TV or listen to music. Daisy has it all.
Rock.
Carded Accesories.
Intercity's suitcase has been removed from the card for photos. It should be opened and laid out flat.