Daisy has a fantastic range of furniture, something for every occassion.
Every Daisy wants a dressing table. The light actually works!
A comfy chair to read in.
A gorgeous style bed.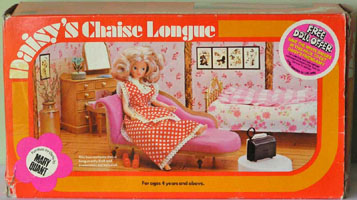 The ultimate place to lounge around.

With hair like Daisy's, a hair dryer is a must. Fan inside actually works!
This is only missing a comb and a plastic visor on the hairdryer.
Every well dressed girl needs a place to check her outfit and a place to hang her coat.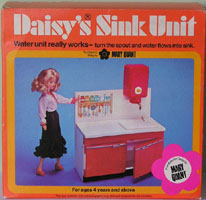 Dishes are no problem in this kitchen.
When not out on the town, Daisy can whip up lunch on her very own stove.
With seating for four, Daisy can entertain at home.
Lots of space to store outfits in here, although every girl always needs more!